Learn Astrology Basics > How Astrology Works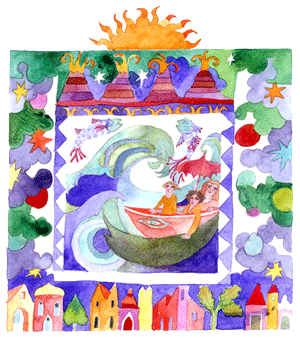 We are born at a given moment, in a given place and, like vintage years of wine, we have the qualities of the year and of the season of which we are born. Astrology does not lay claim to anything more.
In this first step, astrology basics, of the learn astrology guide to your natal chart, you will learn how astrology works.
Astrology sees the universe and all of it's constituents not as separate entities, but intrinsincally related to each other in a unified whole. It sees mankind not only influenced by hereditary factors and the environment, but also by the state of the solar system at the moment of birth and that there is a correspondence between what is going on with the planets and the individual.
It is not so much that the planets effect the individual, although undoubtedly the Sun and Moon do, it is more that the planets position and the individuals nature are both a reflection of the same universal force acting upon them. What can be seen by the position of the planets will therefore tell us something of the nature of the individual born under this same moment.
How Astrology Works
Each planet represents a particular energy which is filtered by the zodiac sign the planets are in at the time of birth and by the way the planets relate to one another - aspects describe these connections or relationships. In addition to this, the positions of the planets in the astrological houses in relation to the place of birth, tells us what areas of life these planetary energies will predominatly express themselves.
By interpreting the roles of the planets, their zodiac signs (and associated elements, modes and polarities), houses and aspects, astrology is able to present a complete and comprehensive picture of the person and his potential, based on the natal chart or horoscope. Taking all this information into account makes every natal chart unique and adds to why the art of astrology is so challenging and fascinating.
One thing never to forget though, is that the stars impel us, they do not compel us. We are all free people and we can transcend our astrological makeup. Acts of kindness and sharing are said to take us beyond the stars to the source and thus alter our destiny.